The consortium numbers nine partners that have a very strong background in designing privacy preserving systems as well as a proven track record in developing such technologies and bringing them to end-users. The partners span both academia and industry and they have complementary set of capabilities and skills.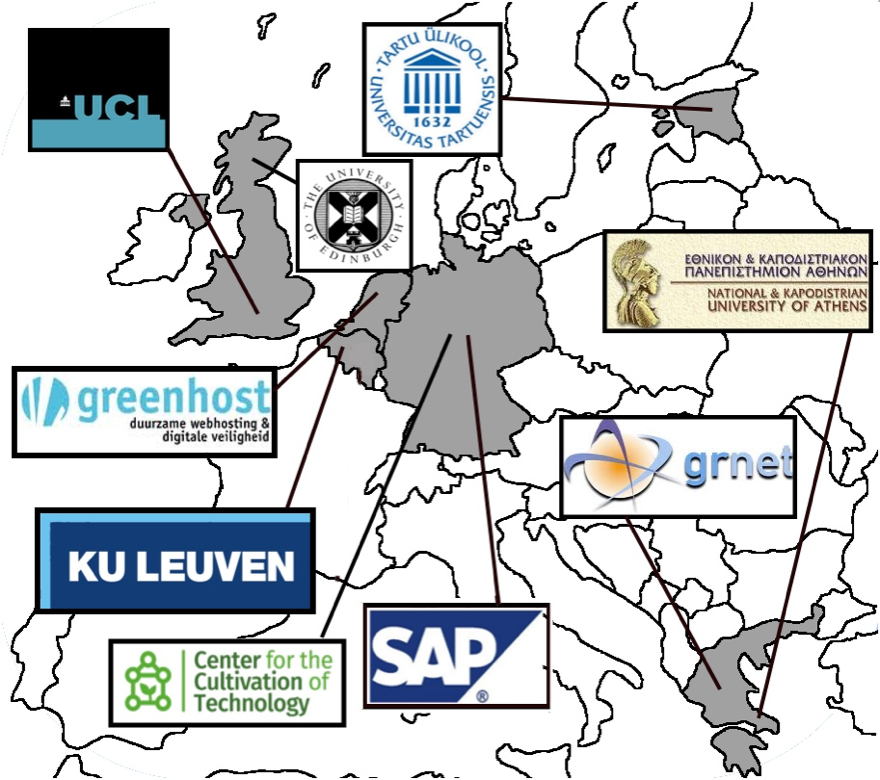 UNIVERSITY OF EDINBURGH
The Security and Privacy group at U. of Edinburgh is active in researching the areas of cryptography, both applied and theoretical as well as cyber security and privacy at large.  
Professor 

Aggelos Kiayias has an extensive research background in digital content distribution, e-voting, privacy-preserving identity management systems and blockchain technology.
UNIVERSITY COLLEGE LONDON
The Information Security group at UCL  pursues active research agendas around security, privacy and cryptography. It includes researchers with substantial experience in designing, engineering and deploying mix nets.
Professor

 George Danezis is the lead designer of the deployed Mixminion (2003) and the Minx (2005), Sphinx (2009) and Drac (2010) mix-net designs.
UNIVERSITY OF TARTU
The cryptography group at the University of Tartu  is working on diverse areas of cryptography.In particular, Professor Helger Lipmaa has done extensive work on e-voting, (zero knowledge) shuffles, and efficient cryptographic protocol design in general.
KU LEUVEN 
The COSIC group at KUL is, with around 50 researchers, one of the largest research groups worldwide working on cryptography, computer security and privacy technologies. In the last years COSIC has participated in nearly 40 EU funded projects, acting as coordinator in 6 of them. Dr Claudia Diaz has 14 years of experience working on mix-nets, traffic analysis, and anonymous communications systems, and has been involved in several projects funded by the Flemish region.
GRNET
GRNET has many years experience of building and operating e-Infrastructures at the networking, grid, and cloud computing areas in Europe. It has a strong track record in software development, releasing and contributing to a number of open source projects. In the last two years, it has developed and operated successfully the Zeus e-voting platform.
GREENHOST
Since its inception in 2003, Greenhost is a pioneer in providing sustainable, reliable and privacy enhanced Internet hosting. Greenhost is the most sustainable and privacy-aware hosting provider in the Netherlands. Being a socially responsible company, Greenhost feel accountable for the technology that they provision to European citizens. Greenhost stays informed and is involved in public debates on issues concerning digital rights and censorship as well as actively develop tools to contribute to a safer and more open web. Greenhost works on the LEAP software with other privacy-aware providers.
SAP
SAP is dedicated to providing its customers products leading in security and privacy. Hence, SAP has participated in several public funded research and innovation projects, such as SecureSCM, PrimeLife or PRACTICE, which have led to numerous advances of its product security and privacy. In addition to his role as a researcher, the SAP lead
Dr Florian Kerschbaum

has a strategic role in governing cryptography at SAP.
CCT
The Center for the Cultivation of Technology is an incubator for open source projects. Its mission is to identify gaps between research and practise, putting together teams of experts from research, practical open source development and project management to turn innovative research into lasting products. It draws on the expertise from its well-respected advisory board members and the large network of contacts of its parent, the Renewable Freedom Foundation. The CCT founder,
Moritz Bartl

, is a core member of the Tor project.